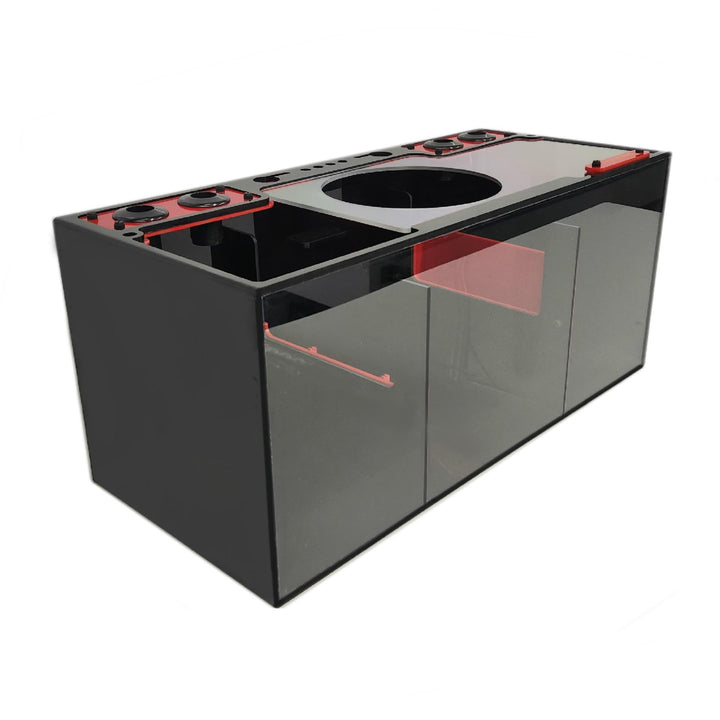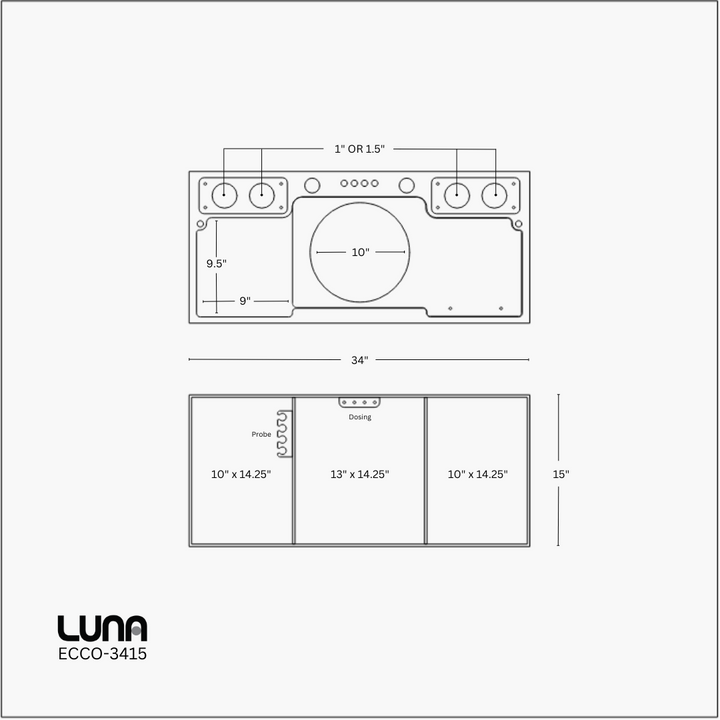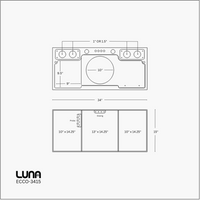 FREE SHIPPING in the Continental US
ECCO-3415 Sumps support most major roller models including Clarisea sk-3000 and 5000 gen 3, Smarter reefs AIO units and Redsea Reefmat 500 (Choose ECCO-3418 for Reefmat 1200)
ROLLERMAT SOLD SEPARATELY
Dimensions:

 

34" L x 15"W x 15"H
Optional sock holder: Two 4"
Roller chamber: 10" x 14.5"
Main / Skimmer chamber: 13" x 14.5"
Return chamber: 10" x 14.5" 
Adjustable water height: 6-10 inches
The ECCO LINE SUMPS are designed to be the last sump you ever buy. Feature rich and ready to grow with you and your system as the hobby progresses. Optional sock plate gives you the flexibility to choose your mechanical filtration. Swappable bulkhead plates makes upgrades a breeze. The ECCO design even effectively functions as a triton method sump. Start smart and finish strong with everything you need for success. Your coral will thank you.
Sleek minimalist design black body with red accents
 3/8" thick top rim and sides for added strength
Dual heater holder included
Flush drop in polycarbonate lid (optional)
Expandable inlet bulkhead array allows the inlet chamber and return chamber to function with  1" or 1.5 " bulkheads ( sump includes four 1" bulkheads. 1.5" bulkheads sold separately HERE) 
Submerged inlet for silent operation
Original design removable bubble trap allows sump to function with or without bubble trap for additional return chamber space. A standard adjustable wall plate is included for operation without the bubble trap. The bubble trap assembly contains a removable slide tray for media holding and is locked into your desired water level height with black nylon bolts and actual black nylon nuts. No more broken threads in tapped walls. No more hard-to-reach slim bubble trap areas near impossible to clean. This is a game-changer.
Probe holder with rubber grommets isolates electrical noise for accurate readings
Four 5/8" ports for optional 1/4" dosing line push fittings
Cord ports with covers keep wires in line.
QUICK SPECS
Dimensions: 34

" x 15" x 15"

Roller chamber: 10" x 14.25"

Skimmer chamber: 13" x 14.25"

Return chamber: 10" x 14.25"

Total volume: 29.74 gallons

Adjustable water level: 6-10"

Inlets: (2) 1" or 1.5"

Return bulkheads: (2) 1" or 1.5"

Optional socks: (2) 4"
Cord ports: Yes
Probe holder: Yes
Dosing ports: (4)